Data Engineer
Hi, thanks for reading about our Data Engineer opportunity! We're glad you're here.
Did you know that Knack is and has always been a 100% remote company? We started as a remote company so we know what it takes to ensure the success of a distributed team. 
Knack is a code-free platform used by thousands of customers — from non-profits to the world's biggest companies — to easily build custom apps, workflows, and databases.
We're looking for someone to play an important role in helping Knack make data-driven decisions by collecting, transforming, and analyzing data. You will work behind the scenes to create the databases and build pipelines that transform raw data into formats that will drive our business decisions. 
We're looking for applicants that are opinionated about what matters to them and want to join a fun, passionate, close-knit crew of high-quality human beings that, above all, enjoy working together. Hopefully, that's you!
Super excited to apply?! Click HERE to apply now!
Please note - We are unable to sponsor visas at this time
In this role, you will:
Diagnose and solve issues in existing data pipelines. 
Develop and automate data pipelines that are scalable and easily maintained. 
Design data models to meet critical product and business requirements. 
Contribute to shared data engineering tooling & standards.
Aggregate and analyze various data sets to provide actionable insight. 
Develop reports, dashboards, and tools for internal business-users. 
Develop technical solutions to improve access to data and data usage.
Understand data needs and advise internal stakeholders on technological resources.
We're looking for someone who is:
Strong in a modern programming language such as Javascript/NodeJS (preferred) or Python.
An expert in AWS RDS and PostgreSQL.
A strong communicator. You can communicate complex technical information to a variety of internal audiences. 
Proficient in identifying/interpreting trends and anomalies in data, and troubleshooting accordingly
Confident with end-to-end data workflows including analysis, reporting, and presenting evidence-based conclusions in a compelling way.
Experienced as a meaningful contributor to a data-driven architecture at scale.
A problem solver. You aren't afraid to go deep, experiment, learn on the fly, and do the work.
Humble but opinionated. You have lots of ideas, yet you are happy to shift directions when a better path emerges. You take your work much more seriously than you take yourself.
An active collaborator. You want feedback on your work early and often, and you get a kick out of a collaborative process because it challenges you to do better work.
Hungry for meaningful work, and space to do it. Knack is a complex product in a complex space and the work is extremely challenging - but also deeply rewarding. Knack makes a major impact in the work of thousands of companies and organizations.
Engaging beyond tests. You understand that empathizing with our customers, building relationships with your co-workers, and going deep on the product makes you a better teammate and a better engineer.
Our Stack:
Front-end: Front-end: ES6, Vue, Vuex, Vue Router, React, BackboneJS, Webpack
Back-end: Node.js, Express.js
Data Persistence: PostgreSQL, MongoDB, Solr, Redis
Testing: Mocha Unit Tests, Playwright js, Cypress.js, Ghost Inspector
AWS: we've drunk the kool-aid and use AWS across the board
Monitoring and Logging: Graylog, Elasticsearch, Logstash, Prometheus, Grafana 
Continued Container Expansion: Docker, ECS, Terraform
✨ Benefits ✨ 
The biggest benefit of Knack is getting to work alongside our awesome team of Knackleheads. We're a funny, humble, talented team of delightful human beings that, above all, enjoy working with each other, growing with each other, and supporting each other.
These benefits aren't that bad either, though:
🌏 Unlimited Paid Vacation: take the time you need to stay motivated, charged, and balanced. You'll get required days off for birthdays and knackiversaries.
🛫 Paid Corporate Retreats: we get together once a year at an amazing location to do normal human being things in person. We pay for your flight, lodging, and meals.
🚑 HealthCare: we offer health, vision, and dental, covering 75% of the premium for you and your dependents (spouse + children).
💵 401(k): we give you the option to automatically deduct funds from your pay to stash them away for your golden years
☮ Equal opportunity and Diversity: we push everyone to maximize their impact on our product and company--we strongly value all of our people, regardless of title or seniority. We believe that different perspectives and backgrounds are what makes a company flourish. That's why we're proud to be an inclusive company with vales grounded in equality and ethics, where we embrace diversity.
🧠 Learning Credits - An annual allowance is provided to stay on top of your game with classes, books, and conferences.
💓 Family support: we offer a generous paid family leave to welcome any new additions to your family.
💻 Tech: we provide a top-of-the-line MacBook.
🤩 Referral Bonus: we think you're great which means you know awesome people! we offer a referral bonus to anyone you refer for an open position once they are hired as an official Knackster!
🏠 Workstation Allowance: we want your work from home space to have everything you need! we offer a workstation allowance to help with that!
About Knack
👋 Hi! We're Knack 😀
Get to know more about Knack and the team by clicking HERE!
👀 How To Apply 👀
Are you currently so excited to apply that you can barely type? ⚡Then we want to hear from you! You can apply for this position by filling out the application.
We review applications in batches, so don't worry if you don't hear from us right away. Qualified candidates will move on to video interviews to discuss the position in detail, meet the team, and talk through the fit.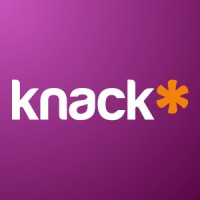 We empower everyday innovators to create no-code apps that manage data, automate processes and move workflows online.